OPTIMUM SHARPNESS THROUGH TECHNOLOGY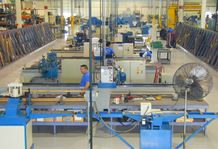 Jorson & Carlson is rapidly becoming the first choice for grinding needs in the United States. Our patented GrindTech Edge technology is 2nd to none. The GrindTech Edge process has proven time and time again to outlast our competitors!!
GrindTech Edge is the most precise method of achieving the highest quality of sharpness. Knives and blades are ground and honed with micro abrasives on custom machines built and modified by Jorson & Carlson to achieve the ultimate burr-free and consistent cutting edge on the market today.
GrindTech Edge Benefits

-Most precise method in achieving optimum sharpness & smoothness
-Grinds, deburrs and polishes on one piece of equipment
-Ultimately produces a Smoother surface finish
-Less friction cutting through paper fibers
-Less dust and lint
-Paper trimmers can cut higher lifts of paper with Less Draw
-Sheeter knives will set and seat easier
-Slitter knives will cut cleaner with less side pressure
-Less down time changing knives because knives will last longer
-Reduction of knife purchases
-Maintains the desired cut for a longer period of time
-Produces a Superior quality sheet of paper