VITECH-TC BENEFITS
Longest Life of ANY Tungsten Carbide Knives available
More machine uptime
Lower ongoing grinding cost (fewer grinds between changes)
Higher resistance to nicking and chipping
Produces smoother cuts for extended period of time
Dramatically less bowing issues
Color identification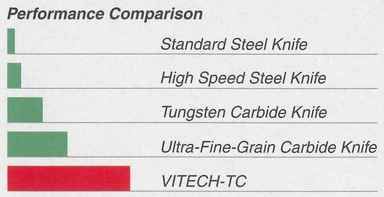 COST COMPARISON
Due to the superior performance, the Kanefusa VITECH-TC knife is more cost efficient than any other product on the market.
VITECH-TC knives will outperform standard carbide knives by 2 to 3 times.
Grinding costs will be reduced because of the enhanced performance of VITECH-TC.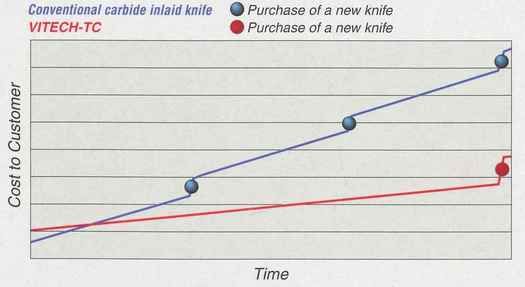 VITECH-TC TECHNOLOGY
VITECH-TC CARBIDE GRADE
VITECH-TC SPECIAL IDENTIFICATION
VITECH-TC CONVENTIONAL PROBLEM "SOLVED"
O.E.M. TRADE NAMES, BRANDS AND TRADEMARKS ARE PROPERTY OF THEIR RESPECTIVE COMPANIES. JORSON AND CARLSON DOES NOT IMPLY WE OFFER GENUINE O.E.M. PARTS.