NEW FOLDER ROLLER REPLACEMENTS
| OEM | MODEL | PRICE | TYPE | |
| --- | --- | --- | --- | --- |
| BAUM / STAHL | TD Series 1426, 1526, TD 66 | Call for price | | |
| BAUM / STAHL | TD Series 1430, 1530, TD 78 | Call for price | | |
| BAUM / STAHL | 1220 Series | Call for price | MAIN | |
| BAUM / STAHL | 1220 Series | Call for price | IDLERS | |
| BAUM / STAHL | 2020 Series | Call for price | MAIN | |
| BAUM / STAHL | 2020 Series | Call for price | IDLERS | |
| BAUM | 520 Series | Call for price | MAIN | |
| BAUM | 520 Series | Call for price | IDLERS | |
| BAUM | 726 Series | Call for price | MAIN | |
| BAUM | 726 Series | Call for price | IDLERS | |
| MBO | B123 | Call for price | | |
| MBO | B21 | Call for price | | |
| MBO | B26 | Call for price | | |
| MBO | B26S | Call for price | | |
| MBO | B30 | Call for price | | |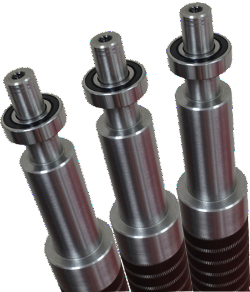 Jorson & Carlson is the source for NEW Folder Roller and Segmented Roller Replacements. Our new folder roller replacements are manufactured by our service technicians that are highly trained to provide the most absolute satisfaction on all NEW folder roller replacements and folder roller recovery. We provide tight tolerances, proper insert materials and quality inspection to insure your folder rollers will achieve optimum performance. Discover how Jorson & Carlson can get your folder rollers rolling like new.
Replacements & Recovery for the following:
BAUM - GUK - H & H - HORIZON - MBO - VIJUK - AND OTHERS
O.E.M. TRADE NAMES, BRANDS AND TRADEMARKS ARE PROPERTY OF THEIR RESPECTIVE COMPANIES. JORSON AND CARLSON DOES NOT IMPLY WE OFFER GENUINE O.E.M. PARTS.